SPONSORED BY

Save up to 50%
Through January 2
As savvy post-holiday shoppers across the country know, Nordstrom's Half-Yearly Sale is an excellent place to find deals, steals, and hidden gems, even after you've taken your decorations down. With markdowns up to 50% off there's plenty of great items for discerning fashion lovers to dig through, and everyone knows that there's no better way to beat the post-holiday blues then with a great deal on a new pair of
sneakers
.
The Half-Yearly Sale includes men's, women's and children's products, so no matter if you're looking to grab something new for your loved ones, or just cop a new pair for yourself — you've been giving all month so it's perfectly fine to be a little selfish — you'll be able to find something. There's a lot of great product to go through, so we've whittled down the extensive selection down to nine shoes in three different categories. Go ahead. Grab something nice. You deserve it.
adidas

Ultra Tech

Shop Now
MENS
Guys have a wide variety of tastes when it comes to their footwear. Thankfully, the Half-Yearly Sale offers something for everyone — from retro runners to skate-ready sneakers.
Just like the old adage states, you can never go wrong with the classics — and that rings exceptionally true when it comes to men's footwear. As one of Nike's most popular running silhouettes ever, the Air Huarache combines sporty and stately in a way that few other shoes can lay claim to. The adidas Ultra Tech's timeless textured style and bright accents ensure you'll stand out from the crowd in any situation. And last but certainly not least, you can never go wrong with a fresh pair of Vans, especially when they feature a unique combo of checkerboard and corduroy like the Lampin does. You can shop the full men's sale here.
Nike Huarache

adidas Ultra Tech

Vans Lampin
Nike

Blazer Mid Rebel

Shop Now

adidas

EQT Support Sock

Shop Now
WOMENS
The world of women's sneakers has blossomed enormously over the past few years, and this season's Half-Yearly Sale boasts an envious selection of special ladies-only kicks.
Women's sneaker trends were wide-reaching in 2018. Running-turned-lifestyle shoes like the Air Max 97 featured new colorways and flashy materials for a brand-new style. Hybrid silhouettes like the EQT Support Sock — a shoe that mixed a high fashion-esque laceless upper with a heritage adidas midsole — bridged the gap between the runways and the streets. Even the classic Nike Blazer got in on the fun via a new Rebel variation that used asymmetrical laces and a medial side zipper for a plentiful helping of modern-day flair. Shop the full women's sale here.
NikeAir Max 97

Nike Blazer Mid Rebel

adidas EQT Support Sock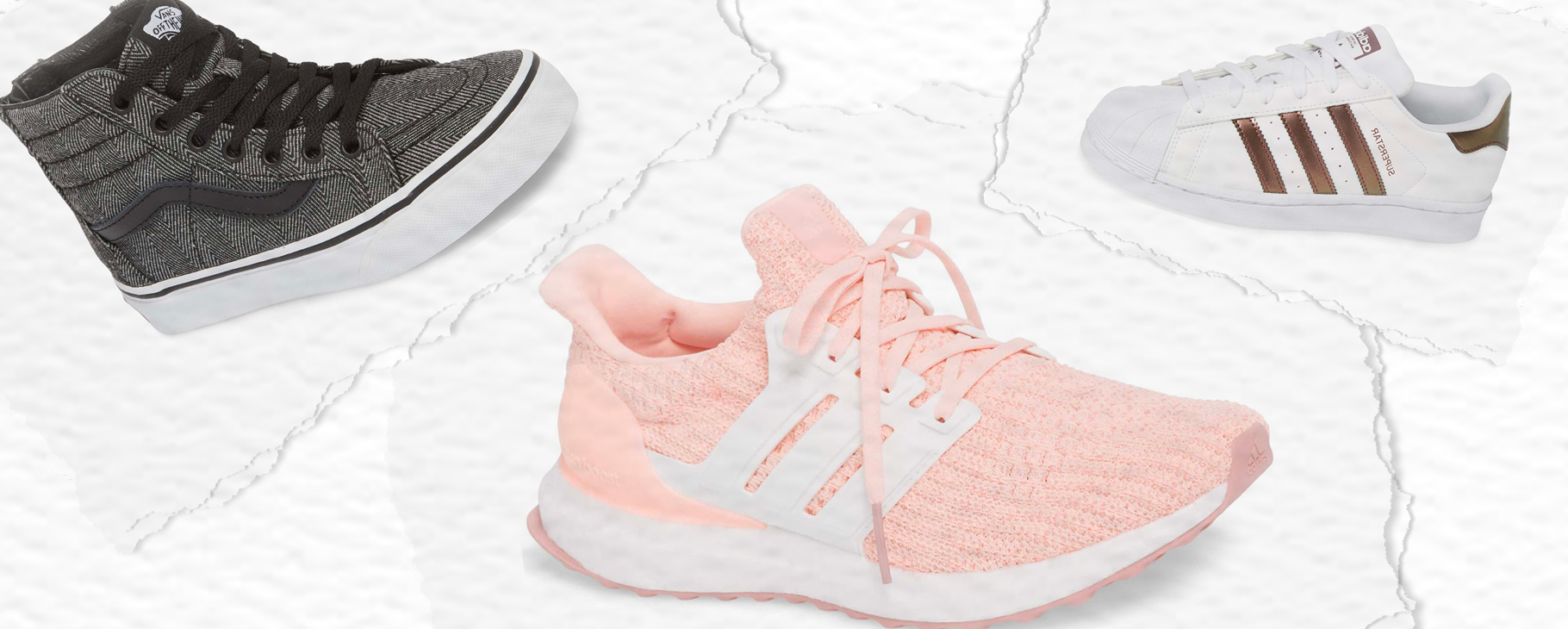 adidas

Superstar II

Shop Now

adidas

Ultra Boost

Shop Now
KIDS
Remember how good it felt to come back to school after holiday break with fresh new shoes on? Your kids will surely be the envy of their whole class with these pairs.
Shoes for a kid have to be resilient, cool, and easy to wear. That's a lot to ask, but the Half-Yearly sale has plenty of pairs that are up to the task. You likely had a pair of shell-toed adidas Superstars as a youngster, and now your kid can too. The Vans Sk8-Hi adds a zipper to the heel, solving the biggest problem with kids high-tops by enabling the wearer to put them on and take them off quickly. And kids have enough energy to run around all year long, so the Ultra Boost ensures they'll be plenty comfortable while doing it. Shop the full kids sale here.
adidas Superstars

adidas Ultra Boost

Vans Sk8-Hi

© Sneaker News, 2018. |
Permalink
|
No comment
|
Add to del.icio.us

The post A Quick Guide To Nordstrom's Half Yearly Sale
appeared first on Sneaker News.
The post A Quick Guide To Nordstrom's Half Yearly Sale appeared first on Sneaker News.
Powered by WPeMatico